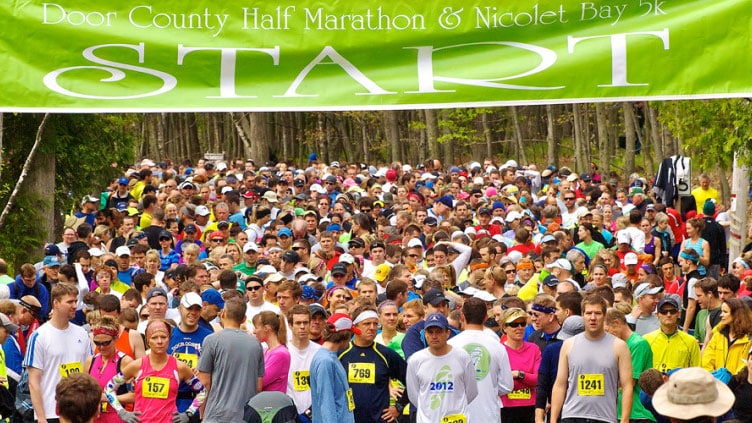 Ephraim Shores offers discounted room rates and close proximity to race
The Door County Half Marathon 2019 which takes place on May 4th is an amazing and very popular race known throughout the Midwest, so lodging in Ephraim, WI fills up fast. With the race in Peninsula State Park, Ephraim Shores Resort is one of the closest resorts that caters to racers.
One of the reasons that the Door County Half Marathon is so successful is that it combines a challenging course with some of the finest views of any race in the USA. The entire race takes place in the park and in case you were wondering, yes, some of the hills are tough!
Premiere lodging for Door County Half Marathon 2019 racers and spectators available at Ephraim Shores
With the race taking place in early May, many places in Door County have not officially opened for the season. We open for this weekend strictly to cater to the racers and spectators. The friendly staff at Ephraim Shores can also help you pick out a great place to carbo-load the night before the race.
With our indoor pool and hot tub to soak in before or after the race, the relaxed atmosphere will be sure to put you in the right frame of mind. All of our rooms are just $95 that weekend, so make sure to book soon to get your favorite room.
For Door County Half Marathon 2019 registration information, visit https://doorcountyhalfmarathon.com/.
About Ephraim Shores Resort
Located in downtown Ephraim, with a private sundeck overlooking Eagle Harbor, Ephraim Shores Resort is the family-friendly resort for groups of all sizes. From our many room types to our beautiful waterfront location, Ephraim Shores has everything your family needs for the perfect vacation. Some of our amenities include an indoor pool and hot tub, and bikes for our guests to use. Contact us at 877-854-2371 or visit our website at ephraimshores.com to make your reservation.
tags: door county marathon 2019, door county races 2019