Book a stay at Ephraim Shores Resort for next year's Pen Park adventures
The Door County peninsula is home to five of Wisconsin's state parks — Rock Island State Park, Newport State Park, Peninsula State Park, Whitefish Dunes State Park, and Potawatomi State Park. Each of these parks have their own rugged beauty and unique trails, geological features, and landscapes — but it's Peninsula State Park that's often considered to be Door County's most "complete" park.
And, with over 450 campsites, an 18-hole golf course, sand beach, plenty of hiking and biking trails, a lighthouse, an amphitheater for summer theater, and eight miles of Door County shoreline, it's easy to see why!
While camping is a popular activity at Peninsula State Park, we wouldn't blame you if you wanted to explore the park for a few hours or a full day and then return to your comfortable and cozy room at one of the nearby Peninsula State Park hotels.
Although we're closed from November through April, Ephraim Shores Resort is one of the great Peninsula State Park hotels. We're just a three-minute drive from the Ephraim entrance to the park — a perfect location to make sure you're close to everything it has to offer.
Here are a few of our favorite things about the park that you can enjoy all year round
Hiking Trails
With 20 miles of hiking trails at various degrees of difficulty, Peninsula State Park is the ideal place to get immersed in nature for a few hours — with only the sounds of the wind, the birds, and the ground under your feet to serve as your soundtrack.
If you're a beginning hiker, try the two-mile Sentinel Trail loop, or the self-guided White Cedar Nature Trail. More experienced hikers might try the Nicolet, Hemlock, or Eagle Trails.
Sightseeing Spots
Door County sunsets and sunrises are striking even in the fall and winter months, and Peninsula State Park offers plenty of places to get a great view. Welcker's Point and Eagle Tower are the most popular sunset spots, and after dark, Sven's Bluff is the perfect place to view the starry skies the peninsula is known for.
There are also a fair number of scenic overlooks, courtesy of Skyline Road, which traverses the highest terrain in the park — and Shore Road, which follows the lower coast.
Tower Views
We can't talk about Peninsula State Park without mentioning the newly rebuilt Eagle Tower, which is open May through October, and as conditions allow from November through April. One of the most breathtaking features of the tower is its 850-foot fully accessible canopy walk.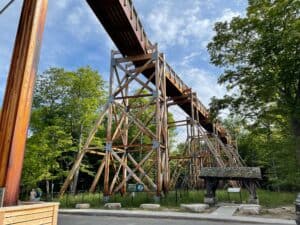 Once you're at the top of the tower, its location on top of Eagle Bluff provides breathtakingly beautiful panoramic views of the park and the surrounding islands, as well as the shoreline of Upper Michigan. Bonus: you get a pretty great view of the village of Ephraim, too!
Get close to nature by staying at Peninsula State Park hotels
While the Door County fall colors have come and gone, there are plenty of other sights to admire within Peninsula State Park during the off-season. Frozen waters, snowy woods, and plenty of open sky with twinkling stars are just a few of the things you must look forward to during the winter and spring months.
If being in Door County during the summer and fall is more your speed, make sure that you make your reservation at one of your favorite Peninsula State Park hotels — Ephraim Shores — when our online reservations open on January 1, 2024!
Ephraim Shores Resort — a waterfront Door County resort for the whole family
Located in downtown Ephraim, Ephraim Shores is a family-friendly resort for groups of all sizes. From our private sundeck overlooking Eagle Harbor and our many room types to our beautiful waterfront location, Ephraim Shores has everything your family needs for the perfect vacation. Some of our amenities include an indoor pool and hot tub, an exercise room and game room, and bikes for our guests to use. To make your reservation, contact us at 877-854-2371 or visit our website at ephraimshores.com.
Tags: Peninsula State Park hotels