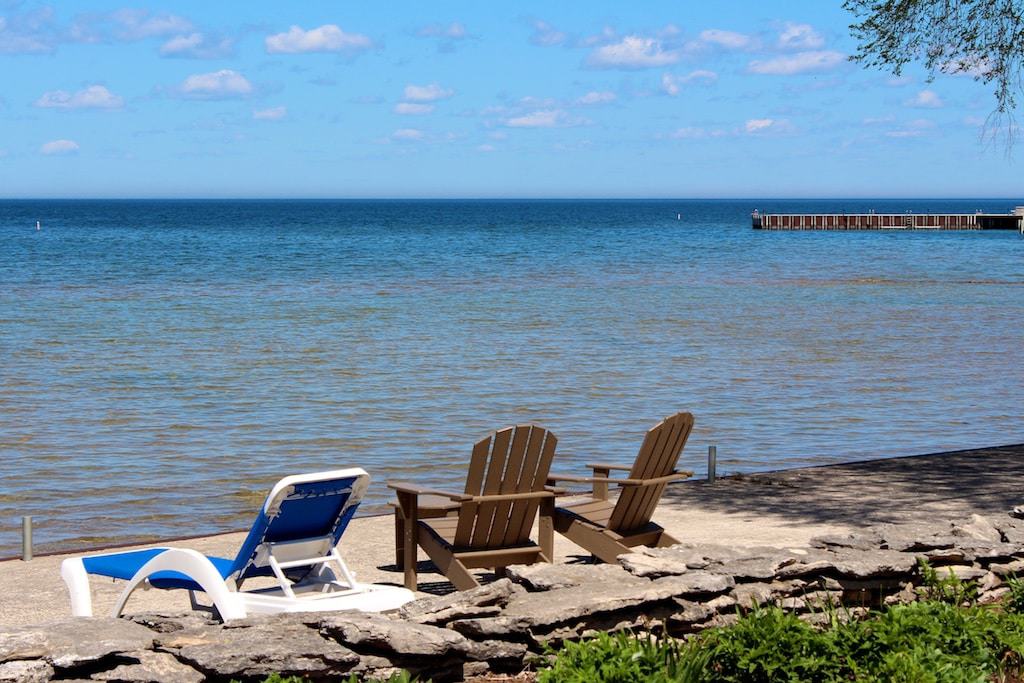 The Summer Breeze off the Bay is a Great Perk For Waterfront Lodging in Door County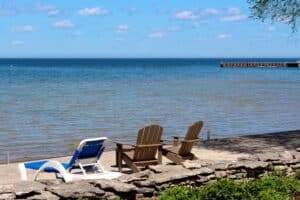 The cool summer breeze off the bay and the sound of waves lapping against the shores make all the difference when it comes to the serenity of your getaway. In Door County, waterfront lodging is a much sought after amenity, and rightfully so. Make your getaway on the waterfront in downtown Ephraim, Wisconsin at Ephraim Shores Resort and Restaurant.
As far as scenery goes, Ephraim Shores is among the best. Blue skies and the blue waters of Eagle Harbor are accented with views of Peninsula State Park and Horseshoe Island. Opposite the water are the tree-laden hills of Ephraim, filled with galleries, restaurants and museums. The attractions of this city are plentiful. Shops, golf, and bike and hiking trails in addition to the above mentioned make Ephraim a great family vacation destination.
May and June are early season months for Ephraim Shores Resort. The fresh changing of the season is just as desirable as any for a getaway. Make reservations and come out now! Beat the crowd and check the family into one of our ten unique room styles.
This month in Door County is The Pink Classic Golf Tournament, May 31st, at the Horseshoe Bay Golf Club. Join the event and battle breast cancer one stroke at a time. Funds raised will benefits the Sue Baldwin Fund for breast cancer awareness, prevention, treatment and care.
Also, the Third Avenue Playhouse in Sturgeon Bay is debuting "Maid to Marry." The play will show Thursdays through Saturdays at 7:30PM and Sundays at 2:00PM starting May 14th.
Ephraim Shores Resort has been a family-owned establishment since 1969. It plays host to an indoor pool and whirlpool, wireless Internet access, an exercise room and a game room as well as the Second Story Restaurant, Ephraim Shores' own addition to the rich selection of dining choices.
The Pink Classic Golf Tournament
Sunday, May 31, 8AM Registration, 9AM Tee-Off
"Hole prizes, "prettiest in pink" prizes, live music by Big Mouth & the Power Tool Horns, dancing, food, drinks, raffle, live auction and more. Proceeds benefit the Sue Baldwin Fund, which provides breast cancer screening, treatment and care for Door County residents who have an economic need. $125/player or $500/team."
"Maid to Marry"
Thursdays-Saturdays at 7:30PM, Sundays at 2:00PM starting May 14
"A romantic comedy with music based on Pergolesi's classic La Serva Padrona. Set in the fabulous world of the 1950′s, it tells the farcical story of a wacky maid who sets her matrimonial sights on her boss. When her madcap schemes go awry, hilarity ensues. It's I Love Lucy meets Mad Men in this zany romantic comedy with music."
Get in touch with the Ephraim beachfront resort, Ephraim Shores Resort, and book a room by calling 920-854-2371, 887-854-2371, or by email at [email protected]